EB-3: MEMBER STATES NOT IN THE DONALD TRUMP ORDER: AMERICA FIRST
admin
(SG VISA) The "Purchase American – American Rent" order for the Highly Technical Labor (H1B) approved by the current US administration on April 18 in Wisconsin is creating more worries for the community. American Immigration (VNE). Many people who are in need of US immigrant labor feel that this decree is a challenge that has not yet seen the opportunity unfolding, especially for EB-3.
H1B is a non-immigrant visa that allows an American company to recruit staff with the goal of filling high-level staff vacancies with a six-year term. Every year the US government issues 85,000 new H1B visas. In 2016, the number of applicants for H1B visa is three times larger than the quota. President Trump says the visa program is stealing US employment: "The H1B is being issued in a completely randomized form and that is a mistake," CNN quoted him as saying in Kenosha. Wisconsin. (Source Newyorktimes)
Original Video of President Trump's speech on Newyorktimes: President Trump in Wisconsin. Photo: Nytimes
1. American-Hire American Order for Non-EB-3 H1B
H1B is a Skilled workers' long-term visa program while EB-3 is an Unskilled workers program. There is NO TRANSPARENCY – NO REQUIREMENTS. MAIN – NO EXPERIENCE. Basically, the decree does not affect the EB-3, EB-5 … According to a survey published in Newyorktimes, high-tech sectors are most affected in two countries China and India.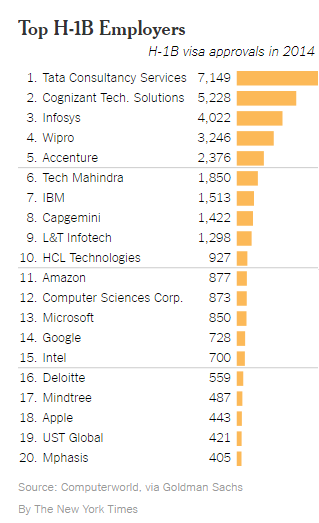 With the slogan "America is above all else," the policy of tightening immigration makes it difficult for those who are seeking entry into the United States, especially EB-3 immigrant workers, to misunderstand the concept. In the period since the drafting of the immigration ban and the "Buy US – American Rent" ordinance, SG VISA has been addressing a number of questions surrounding the EB-3 settlement problem. by the new ordinance? As a US immigration consultant, SG VISA advises you and your family to be reassured for the following reasons:
First, the US government wants to address two issues: to prevent fraud and abuse of labor visas. On that basis, the State Department, the Ministry of Justice, the Ministry of Labor and the Department of Homeland Security will review the records more closely and the time will be longer than before. And this is the overall situation of the US immigrant labor market.
Second: This is the time when there are changes to the immigration policy. And is this change a chance for us as the need for US businesses needing ordinary workers to work in their facilities?
2. America needs universal labor
According to Richmon, the winery in Charlottesville is looking for more foreign workers, and other vineyards in the area also need them to do low-level jobs.
This is not the only vineyard in the area that would like to hire foreign workers. The Horton vineyard, Early Mountain vineyard and Barboursville winery also have recruited this year. Two Glass House wineries and Grace Estates Winery have no requirements. Libby Whitley, an attorney who has been working with employers for labor services since 1995, said: "It's hard to find a jobseeker." "(Richmon source)
In the past, US recruiters preferred to recruit foreign students rather than recruit American workers because they paid them lower. "The H1-B visa program is intended to bring skilled workers in. certain fields to the US, but the administration contended that employers have abused the program to hire workers who will accept cheaper pay than Americans. "(Source CNN).
The US market always needs cheap labor. Jobs in the United States have an average income of $ 8.05 an hour, roughly equal to or higher than the unemployment rate. Most Americans will consider a job with the same salary.
Most of the jobs Americans desperately need are high-level jobs, corresponding to their skills and education, high income, and hard work and manual labor. physical, is considered not able to advance. And this is the opportunity for your family and children to be legally settled in the United States.
3. EB-3 Workers: Prepare in the meantime!
Annually, the United States spends 28.6 percent of US-based immigrant-based immigrant-based EB-3 immigrant visa applications. Workers and families including spouses and single children under the age of 21 will be issued with an Unqualified Green Card for permanent residency in the United States upon arrival in the United States and enjoy the benefits of education and welfare. Assembly as an American citizen.
Instead of worrying about you and your family, you should begin to understand how to prepare the best for yourself and your family. Learn the EB3 law and benefits at SG VISA. Photo: SG VISA
If you do not know where to start, SG VISA can guide you and your family. You rest assured, we consult for free. What SG VISA can do for you and your family:
Advising, supporting, introducing, providing necessary information to customers in preparing, compiling the file, contacting the competent authorities in the process of completing the dossier under the EB3 – Visa for permanent residence.
Consulting and guiding clients to prepare dossiers, relevant knowledge on the process of processing dossiers, stages in the process of processing dossiers, documents, papers to be translated, notarized by Requested by the competent authority.
Advise clients on the preparation of visa interviews, how to provide information, documents and evidence, and help clients stay mentally motivated before visa interviews at LSQ.
Instruct all customers to work with the competent authorities during the processing of the application.
Advice, support, and customer support are consistent in all of the information that must be provided to US government officials and agencies.
Advise, guide, support customers to schedule medical examinations in accordance with US government regulations.
Advise, recommend, and contact our qualified partners to complete the application to meet USCIS requirements.
Consulting, guiding, introducing, representing the customer contact qualified partners to provide rental service, car rental, home purchase to stabilize life in the United States.
Advise, provide necessary information to help customers acquire basic knowledge to adapt to the new habitat in the United States.
Advise, educate, educate, and educate clients with local knowledge, find the providers and products needed for legal issues, social security, and daily life at USA.
4. Customers of SG VISA have been granted the Green Card for 10 years
During a period of community anxiety about American settlement, SG VISA's clients have been awarded the EB-3 Green Card (10 years). Prior to that, he also worried whether the policy of "tightening immigration" and the "American Purchase – American Rent" decree would affect his green card issuance. Currently, he is settling in and settling in the US. He wrote a letter to SG VISA, allowing SG VISA to share information to help people who are anxious and anxious as he is reassured and takes the right steps.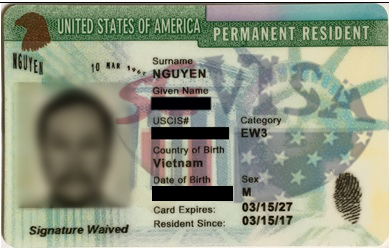 The 10-year green card is issued by USCIS on March 15, 1977 (personal information is kept confidential) and a screenshot of the customer's mail is sent to SG VISA.
EB-3 IS A LEGAL EMPLOYMENT PROGRAM UNDER THE LAW ON MIGRATION
No need for a sponsor
No experience required and qualifications
No need for financial proof and English
Only one person working long term, granting Green Card for the whole family
Both are American citizens and are entitled to full benefits such as health care, education, insurance, retirement, etc.
Freedom to enter in 157 countries without visa
Have a full time job for yourself and your companion.
5. How can SG VISA help your family?
SG VISA provides a very thorough guide to the preparation of interviews, preparation of psychological interviews for clients, preparation of convincing evidence
As the pioneer in bringing the EB-3 LABORATORY program to Vietnam to help the community realize the dream of living and working for the future of children
Founder of SG VISA is a former US Consular officer who interviewed and interviewed more than 3,000 applicants.
The United States under the Humanitarian Resettlement Program
Experienced consultants and satisfied more than 3000 customers
Always accompany your customers until you reach Visa and after Visa
Quick time, each customer has a successful record in 14 months
Dedicated consultants, accurate information, professional process, help customers peace of mind during the process of opening files, understand the point, understand the question, help you and your family Previous interview
Consulate
Set up an office in the United States, ready to support clients and families about employment and knowledge of American integration after being granted a Green Card.
Respect and confidential information of customers, only share when the customer approval
In particular, nearly 15 Post arrival services provide customer support to the United States.
If you are interested, please REGISTER or call: 0919 106 590
• Self-assessment records: http://sgvisa.org/danh-gia-ho-so.html
• Program Information: http://sgvisa.org
• Video: https://youtu.be
+ Vietnam Office: 14th Floor, 36 Bui Thi Xuan, Ben Thanh Ward, District 1, Ho Chi Minh City, Vietnam
+ Office of the United States:
• 9600 Bellaire Blvd # 208, Houston TX 77036, USA – Ms. Hanh Lewis (281)888-4939 – (713)557-5399
• 3950 Burton St. Inkster, 48141 Detroit city, Michigan, USA
SG VISA is always a professional, honest, effective partner who will guide your whole family through the challenges and experiences of the joy of being an International Citizen.